eBay is the most successful and competitive market place for online seller and buyers. An eBay store is the part of the eBay where sellers can showcase all their merchandise which they have for sale. It is the comprehensive E-Commerce solution which helps sellers to get more out of their eBay business. Seller can customize eBay store pages to share more about their business. Store subscribers get access to tools that help them to build their own brand and encourage buyers to buy more.
A well managed eye-catching and highly functional eBay Store Design is the great way to stand out from the crowd and sell more. Drive more traffic and boost your sales conversions with Professional eBay Store Design. Regardless it's just an eBay shop design or E-commerce store the better it looks, the more you will sell. eStore Seller is here to help you in achieving your targets. We have team of professional designers highly competent in creating and designing eBay Store design.
Get PushAuction eBay Store Design solutions that truly complement to your corporate identity and help to unlock your true business potential's.
Exquisite and contemporary eBay Store and Listing Templates
Establish strong brand awareness with custom logo design
Customize Storefront to distinguish yourself from your competitors
Enhance your customer shopping experience when ordering form your store
Improve buyer's confidence
Boost sale conversions
Increase return on investment
Custom 'About Me' page to promote and share more about your online business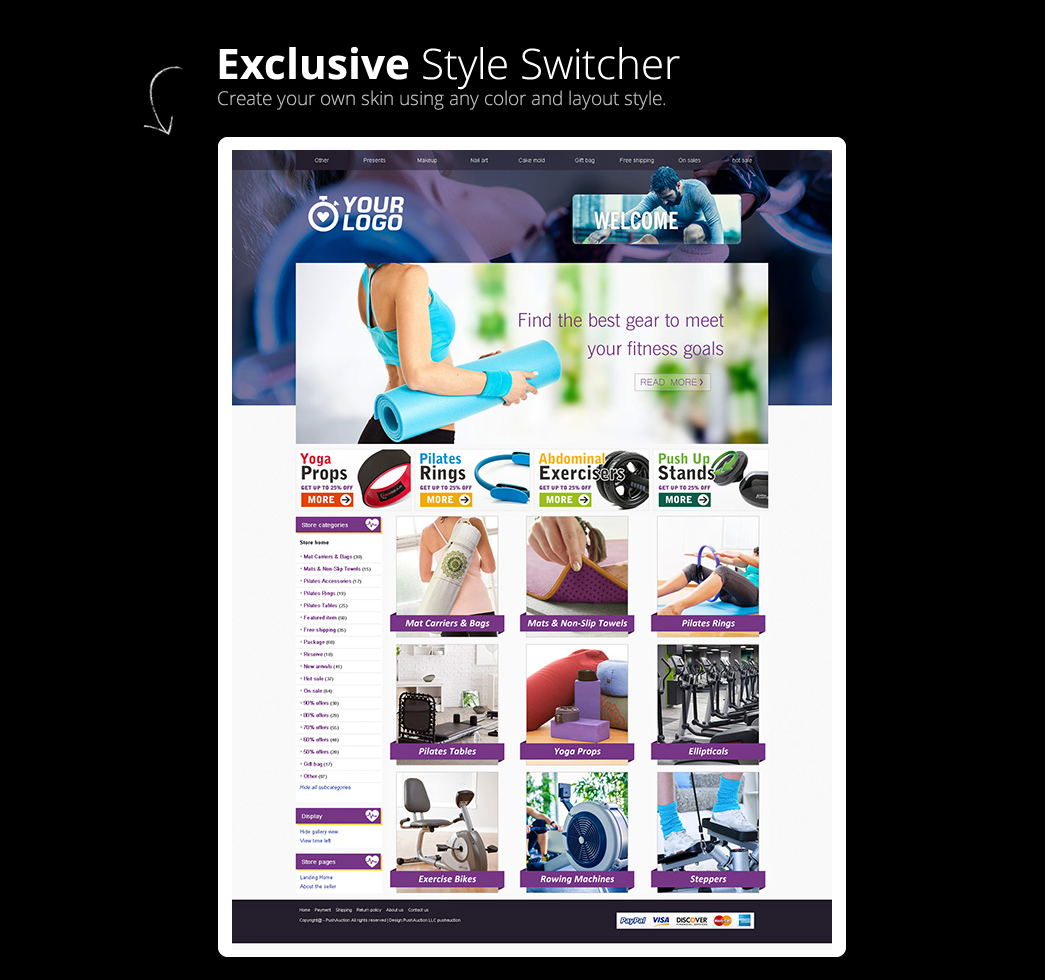 自定义位置
自定义背景图片
自定义背景颜色
自定义高度
8种横幅播放方式
最多支持十张图片
支持自定义链接
无限配色
高达20种风格
8种横幅播放方式
自动同步ebay
支持自定义商店分类
支持自定义链接
可以设置风格颜色
最多可设置一百个分类
最多支持18 种布局方式
6 种图片展示方式
3 种带zoom效果展示方式
10 种图文布局方式
支持三种排列方式
支持自定义图片
支持自定义图片链接
Unlimited Layout Options
You can build almost any kind of ebay store using PushAuction as base.
The theme has several layouts options that you can easily modify.
Tons of Reusable Elements!